175 Watt Metal Halide Ballast Kit Quad-Tap M57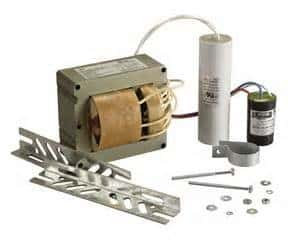 175 Watt Metal Halide Ballast Kit
175 Watt Probe Start Metal Halide Ballast Replacement Kit
Quad-Tap 120V 208V 240V 277V
175W Metal Halide Ballast Kit Details:
Ballast Operating Voltage: 120V/208V/240V/277V 60Hz (4-Tap)
Ballast ANSI: M57 (probe start metal halide)
Ballast Wattage: 175 Watt
Ballast Type: HID Magnetic Metal Halide
Ballast Circuit Type: CWA
Ballast Shipping Weight: 6.3 lbs
JAMES Warranty: 3 Years
Capacitor Included: 10.0/400
Mounting Hardware Included
Additional Metal Halide Ballast Info:
175 Watt metal halide ballast M57 replacement kit w/ capacitor, core & mounting hardware. We recommend all ballast servicing to be done by a certified electrician. Improper wiring is unsafe and can damage the lamp and/or ballast kit.
175W Ballast Cross Reference
JAMES Ballast: 175W-MH-71C-214-K
Cross Reference may not be exact, please check details before ordering.
Ballast ANSI: M57
Operating Voltage: 120V, 208V, 240V or 277V
Included: Capacitor, Core and coil, Mounting
175 Watt Metal Halide Ballast.
| ITEM NO | ANSI NO | Power | Circuit operating current  (A) | Capacitor (μF) | Power Factor | N.weight/PC |
| --- | --- | --- | --- | --- | --- | --- |
| | | | | | | |
| JS-HPF MH70W.4T.C | M98 | 70W | 0.85/0.50/0.45/0.40A | 8μF /300V | 0.9 | 2.1kg |
| JS-HPF MH100W.4T.C | M90 | 100W | 1.10/0.70/0.60/0.50A | 10μF /300V | 0.9 | 2.55kg |
| JS-HPF MH150W.4T.C | M102 | 150W | 1.70/1.00/0.90/0.80A | 15μF /300V | 0.9 | 3.45kg |
| JS-HPF MH175W.4T.C | M57 | 175W | 1.85/1.05/0.90/0.80A | 10μF /400V | 0.9 | 3.5kg |
| JS-CWA MH250W.4T.C | M58 | 250W | 2.60/1.50/1.30/1.10A | 15μF /400V | 0.9 | 4.55kg |
| JS-CWA MH400W.4T.C | M59 | 400W | 4.20/2.50/2.10/1.80A | 24μF /400V | 0.9 | 6.2kg |
| JS-CWA MH1000W.4T.C | M47 | 1000W | 9.10/5.50/4.60/4.00A | 24μF /480V | 0.9 | 10.15kg |
Related Items