1000 Watt Pulse Start Metal Halide Ballast 4T Kit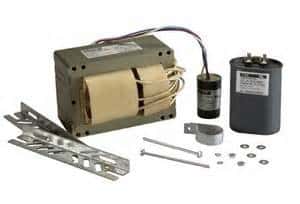 1000 Watt Pulse Start Metal Halide Ballast Kit M141
Ballast replacement kit w/ starter, capacitor, core & mounting hardware
Pulse Start Metal Halide Ballast Info:
Ballast Model:1000W-MH-71C-613-CK
Ballast Wattage: 1000 Watts
Ballast Voltage: 120V, 208V, 240V or 277V
Ballast ANSI: M141 (1000W pulse start metal halide)
Ballast Type: Magnetic Pulse Start Metal Halide
Ballast Power Factor: 0.92
Ballast Weight: 21.1 lbs
JAMES Warranty: 3 Years
Amp Draw: 120V=9.00 208V=5.00 240V=4.50 277V=4.00
Ballast Circuit Type: PS-CWA
Ballast Capacitor Value: 24.0/480
Ballast Starter Used: ST2002
Pulse Start Metal Halide Ballast Performance:
* Ballast is designed in accordance with all applicable ANSI specifications including ANSI C82.4.
* Ballast is designed with Class "H" (180°C) or higher insulation system.
* Designed to operate for 60,000 hours of continuous operation at maximum rated temperature.
* Ballast and starter combinations operate reliably at starting temperatures of -30°C at nominal line voltage of plus or minus 10%.
We recommend all ballast servicing to be done by a certified electrician. Improper wiring is unsafe and can damage the bulb and/or ballast kit.
Benefits of Pulse Start Metal Halide vs Probe Start Metal Halide Ballasts:
* Faster restrike time (3-4 minutes)
* Half the warm up time (2 minutes)
* 25% to 50% improved lumen output (efficacy)
* Improved illumination levels over life (better lumenmaintenance)
* Colder starting temperatures
Ballast ANSI: M141
Operating Voltage: 120V, 208V, 240V or 277V
Included: Starter, Capacitor, Core, Mounting.
Related Items