150 Watt HPS Ballast Kit S55 120V, 208V, 240V or 277V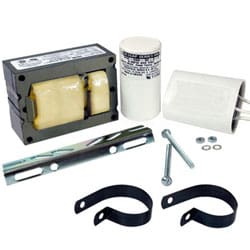 150 Watt HPS Ballast Kit S55 120V, 208V, 240V or 277V
Ballast ANSI ID: S55
Full ballast replacement kit w/ capacitor, ignitor & mounting hardware
Ballast Type: 150 Watt HPS Ballast
Manufacturer: James Lighting
Full factory warranty 3 years!
Ballast Works on: 120V, 208V, 240V or 277V
Circuit Type: R-HPF
150 Watt HPS Ballast Features:
Line Voltage(V): 120/208/240/277
Regulation: 10%
Frequency(Hz):60
Circuit Type: CWA
Insulation Class: 180°C
Capacitor Voltage Rating: 500V
Cap.Temp.Rating: 105°C
Winding Materials(Pri/Sec):Al/Al
Agency Certification:RU,cRU
Maximum Distance to Lamp:2FT
Well and High Quality Control.
Prompt Delivery.
New 150 Watt HPS Ballast.
Customer"s Design and Logo are Welcome.
Competitive Prices.
Fit for Gifts and Premiums.
Earth-friendly Products.
In a Variety of Design.
OEM & ODM Accepted.
Related Items