1000 Watt Ballast High Pressure Sodium HPS 5T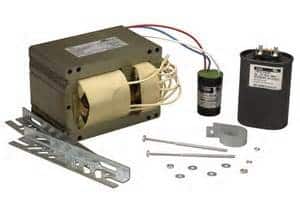 1000 Watt High Pressure Sodium Ballast Kit
1000W HPS Ballast Kit Details:
Ballast Operating Voltage: 120V/208V/240V/277V/480V 60Hz (5-Tap )
Ballast ANSI: S52 (high pressure sodium)
Ballast Type: HID Magnetic High Pressure Sodium
Ballast Power Factor: 0.94
Ballast Shipping Weight: 25.5 lbs
JAMES Warranty: 3 Years
Ballast Starter Included
Ballast Capacitor Included: 26.0/525
Mounting Hardware Included
Additional HPS Ballast Info:
The S52 1000W HPS ballast kit requires a capacitor and ballast starter to operate. We recommend all ballast servicing to be done by a certified electrician. Improper wiring is unsafe and can certainly damage the lamp and/or ballast kit.
HPS Ballast Cross Reference*
JAMES Ballast: 1000W-HPS-81C-211-K
*Cross Reference may not be exact, please check details before ordering.
HPS Ballast ANSI: S52
Ballast Operating Voltage: 120V/208V/240V/277V/480V 60Hz (5-Tap )
1000 Watt High Pressure Sodium Ballast Replacement Kit.
Related Items